Home

/

Battery Monitor | Bluetooth - Rectangle 500A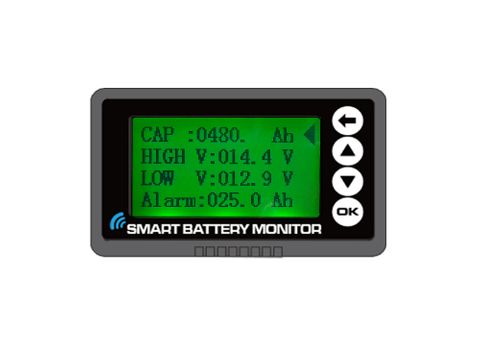 Battery Monitor | Bluetooth - Rectangle 500A
Description
Battery Monitor | Bluetooth - Rectangle 500A
The BM16-500 Smart battery monitor is a high-precision meter that allows you to check the status of your battery via the display or your Smartphone with the smart battery monitor App.
Through the use of a 500A current shunt, the battery monitor measures the discharge or recharge currents and calculates the Ampere-hours(Ah) going in and out of the battery.
High-precision voltage measurements are taken and displayed in real-time through the use of a field-installed sense wire. BM16-500 battery monitor is compatible with all types of batteries, especially lithium, LiFePO4 batteries.
Contents:
1 x Smart Bluetooth LCD Display. ApproX 110 X 70mm
1 x 350 Amp (Cont.) - 500 Amp (Peak) Shunt
1 x 1m Extension Cable
1 x 1m Fused Battery sense wire
Optional:
3m Extension cable - BM16-3MC
6m Extension cable - BM16-6MC

Displayed Data:
Battery Capacity - Indicator
Battery Voltage - Indicator
Battery Current - Indicator
Battery Power - Indicator
Battery State of Charge (SOC)% - Indicator
Charge & Discharge - Indicator
Remaining Time
Battery Alarm
500A Shunt Specs:
Specs
Min
Type
Max
Unit
Working Voltage
8.0
80.0
Volts
Working Disspation
10.0
12.0
mA
Standby Dissipation
0.5
0.8
mA
Sleep Dissipation
50.0
60.0
uA
Capacity Accuracy
+/- 1.0
%
Voltage Accuracy
+/- 1.0
%
Current Accuracy
+/- 1.0
%
Backlight On Current
40.0
50.0
mA
Backlight Off Current
40.0
40.0
mA
Capacity Setting Value
0.1
999
Ah
Sampler Working Current
50.0
500.
A
Temperature Range
0
20
35
Degree C
Weight
65.0
grams
Size
59x20
mm
Brand:

E&J

Warranty Information:

24 Months
Downloads
Customer Reviews and Ratings
No Reviews
Be the first to review this product!